Hush Classic - Weighted Blanket For Anxiety, Stress and Insomnia
No more tossing and turning. Get in bed with a blanket that feels like a hug and calms your body and mind.

The weight of the blanket triggers 'Deep Touch Pressure Stimulation' (DTPS) to relax your body
- DTPS reduces cortisol levels to relieve stress and calm your racing mind
- DTPS also promotes gradual melatonin release to lull you into a deep sleep
A Blessing for Insomniacs!
Step 1:

Select the right size and weight!
Tip: 10% of your body weight is ideal.

Step 2:

Fall asleep in minutes, and stay that way till morning with Canada's most popular weighted blanket.

Step 3:

Clean easy. Unzip the blanket's duvet cover and wash in low-temperature.
(Find your weight)
How Does It Work? Let's Get Science-y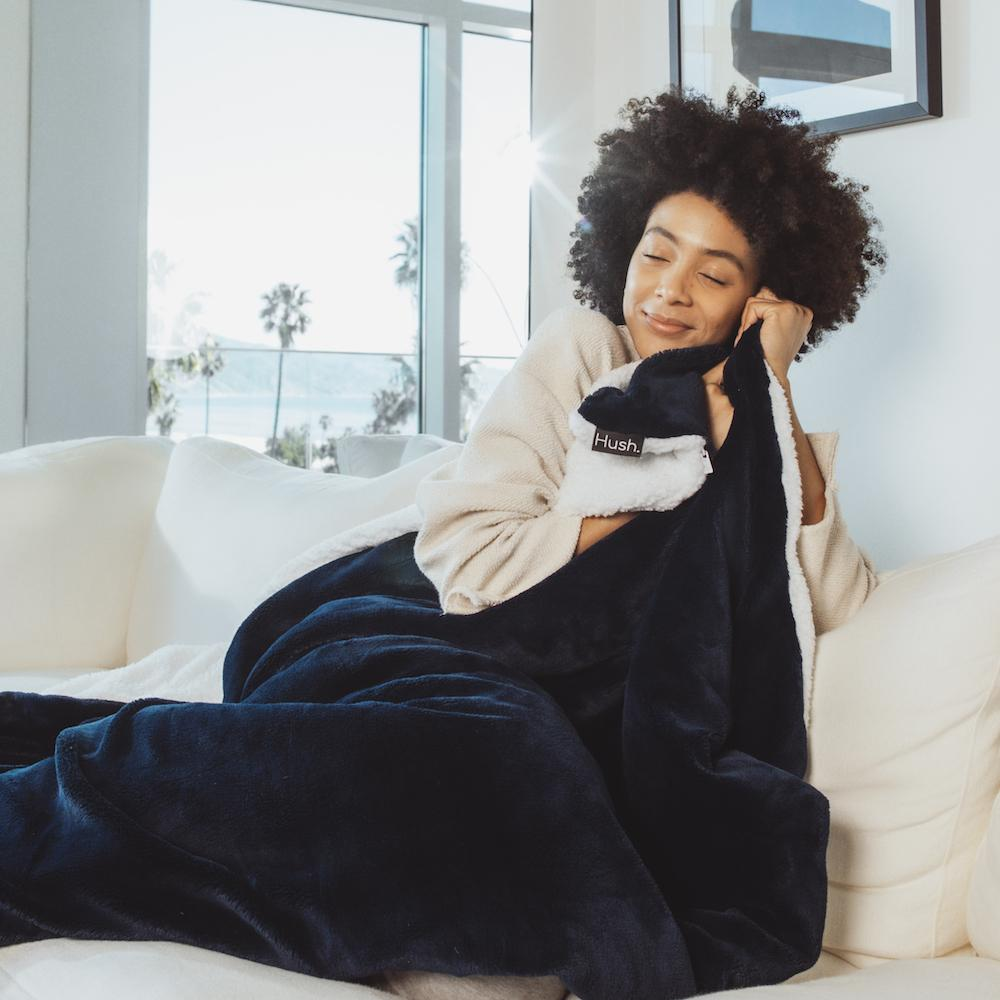 Literally Feels Like a Hug
Ever hugged a loved one to lift their mood? The gentle weight of this blanket literally feels like a hug and triggers a soothing effect that physio-therapists call 'Deep Touch Pressure Stimulation' (DTPS)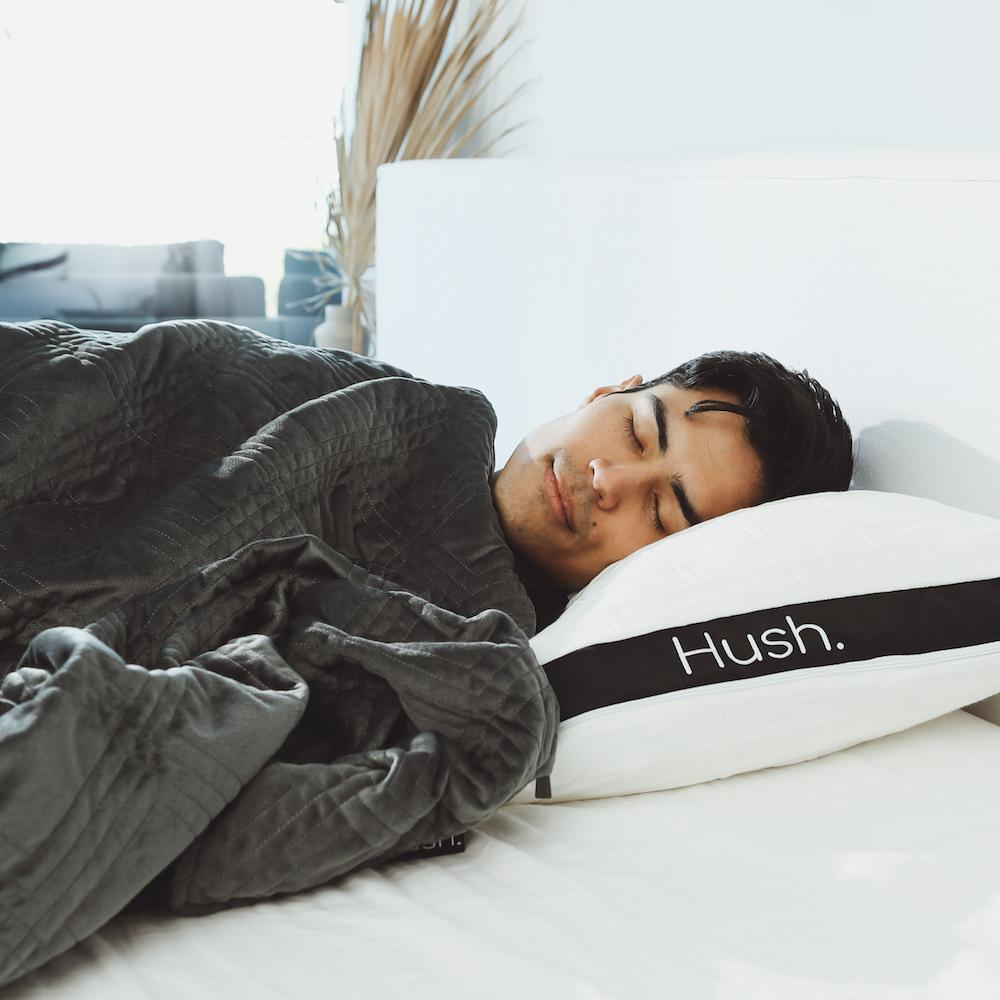 Keep Hormones In Check
Just like a real hug, DTPS de-stresses you by down-regulating stress hormones (cortisol) and lifts your mood by up-regulating your happiness hormones (serotonin)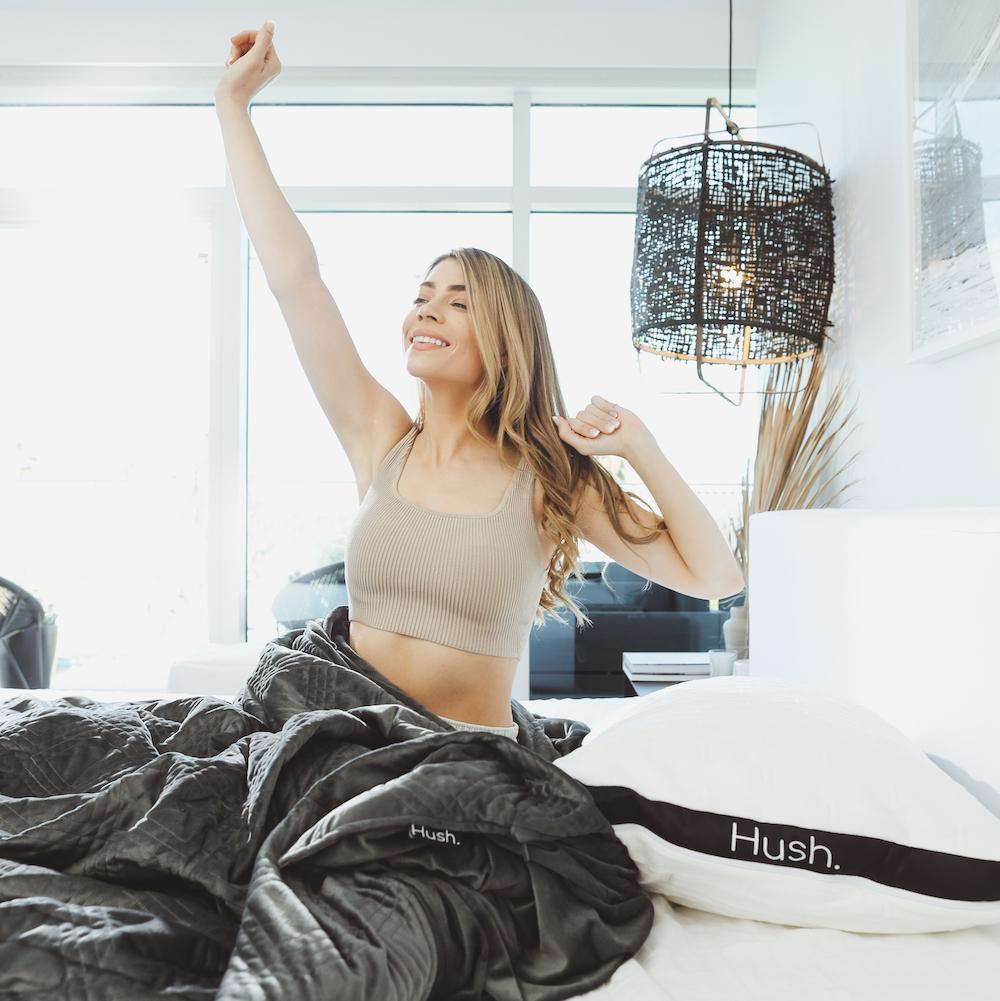 Restore Melatonin Balance
DTPS also triggers a natural and gradual release of melatonin to help you fall asleep in minutes. Best part? Unlike sleep-aids, there are no risks of side-effects
Very

Frequently Asked Questions
How do I choose the right weight for me?
Simply use this quiz here or choose a weight that is roughly 10% of your body weight, or 10% of the weight of you and your partner combined. (
Take a Quiz
)
Where does the weight come from?
Inside the duvet cover, there is a second weight layer which is sewn into 100+ mini squares. Each of those squares contain non-toxic glass sand to provide weight.
What if we are two people sleeping in the same bed?
Our Queen and King sizes support two people! If you have different weight requirements, choose two Teen or Twin blankets for each of you.
How do I wash the blanket and how often?
Each of our blankets comes with a removable cover. Simply unzip, throw it in the wash, and hang dry for best results. You don't have to wash it as often as your other duvets since the Iced material is naturally antimicrobial. It won't smell or harbor harmful bacteria!
How does the 100 Night Guarantee work?
If you don't love it within 100 nights, simply use our return portal to ship it back to us and get your money back!
Will the Hush Classic help me with ____?
The Hush helps with many symptoms of larger problems, such as general stress and anxiety or the stress and anxiety arising from restless leg syndrome, PTSD, nightmares, sensory issues, and much more. It will aid in keeping you calm and help you fall asleep faster if you have insomnia. If you are unsure if the Hush Iced weighted blanket is right for you, feel free to ask your doctor.