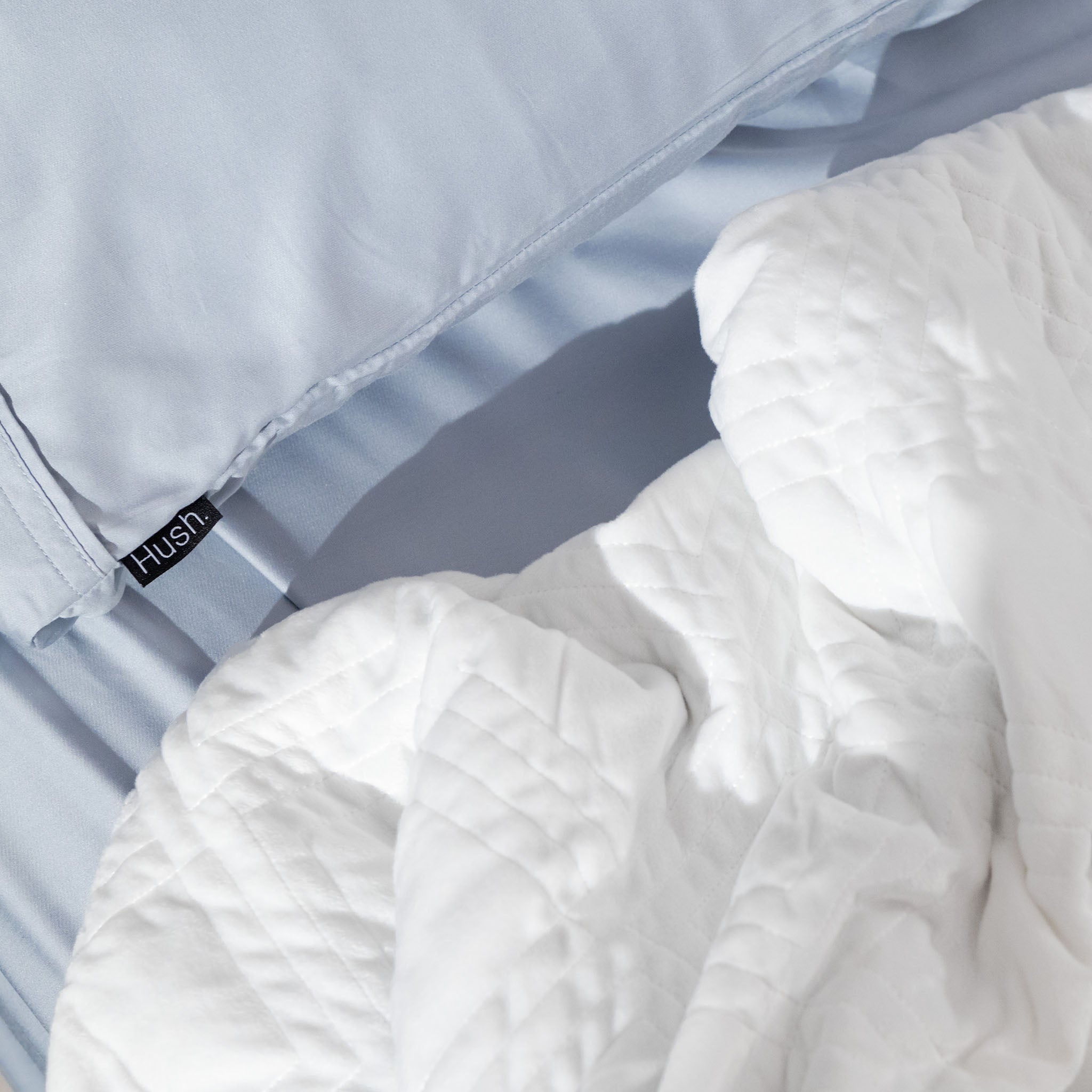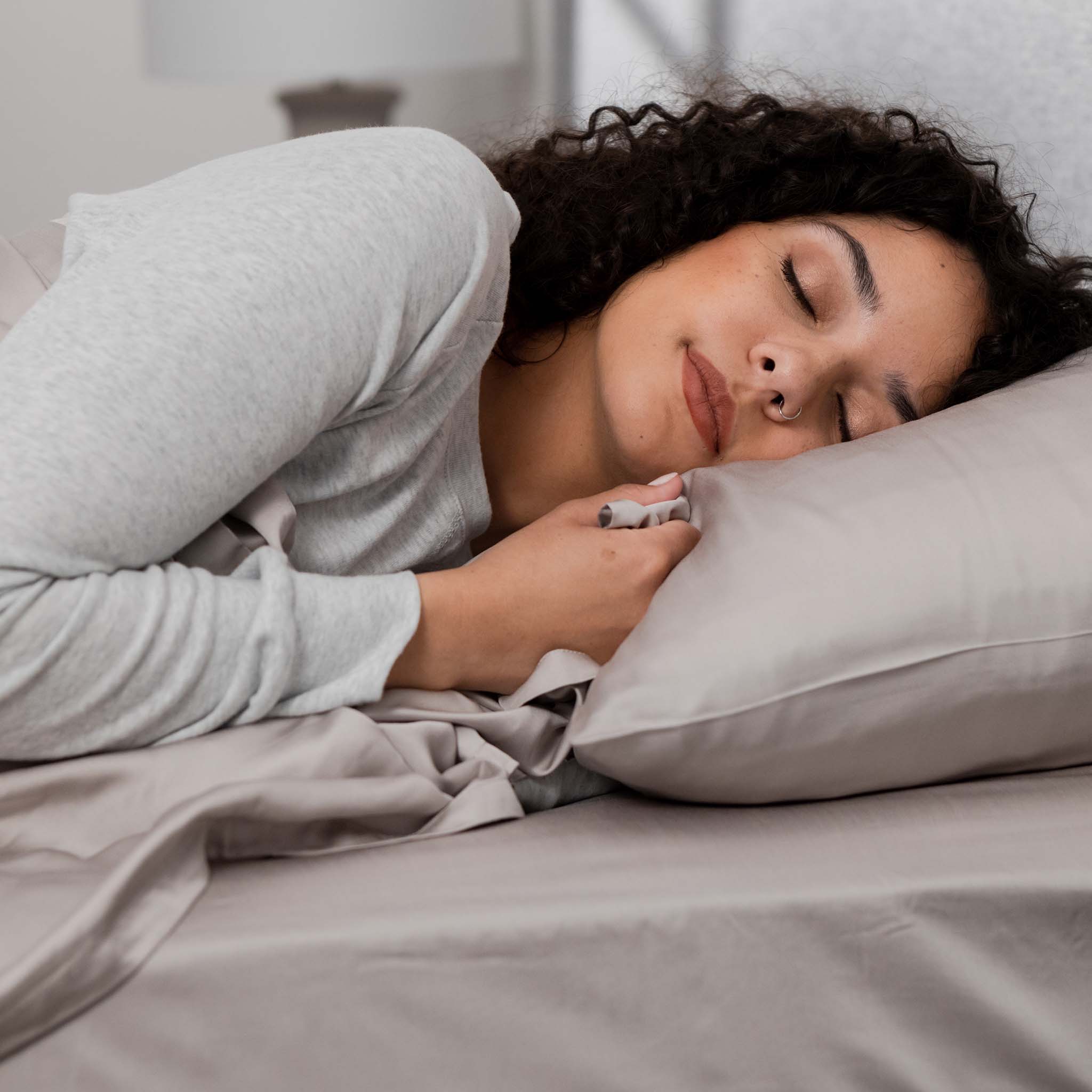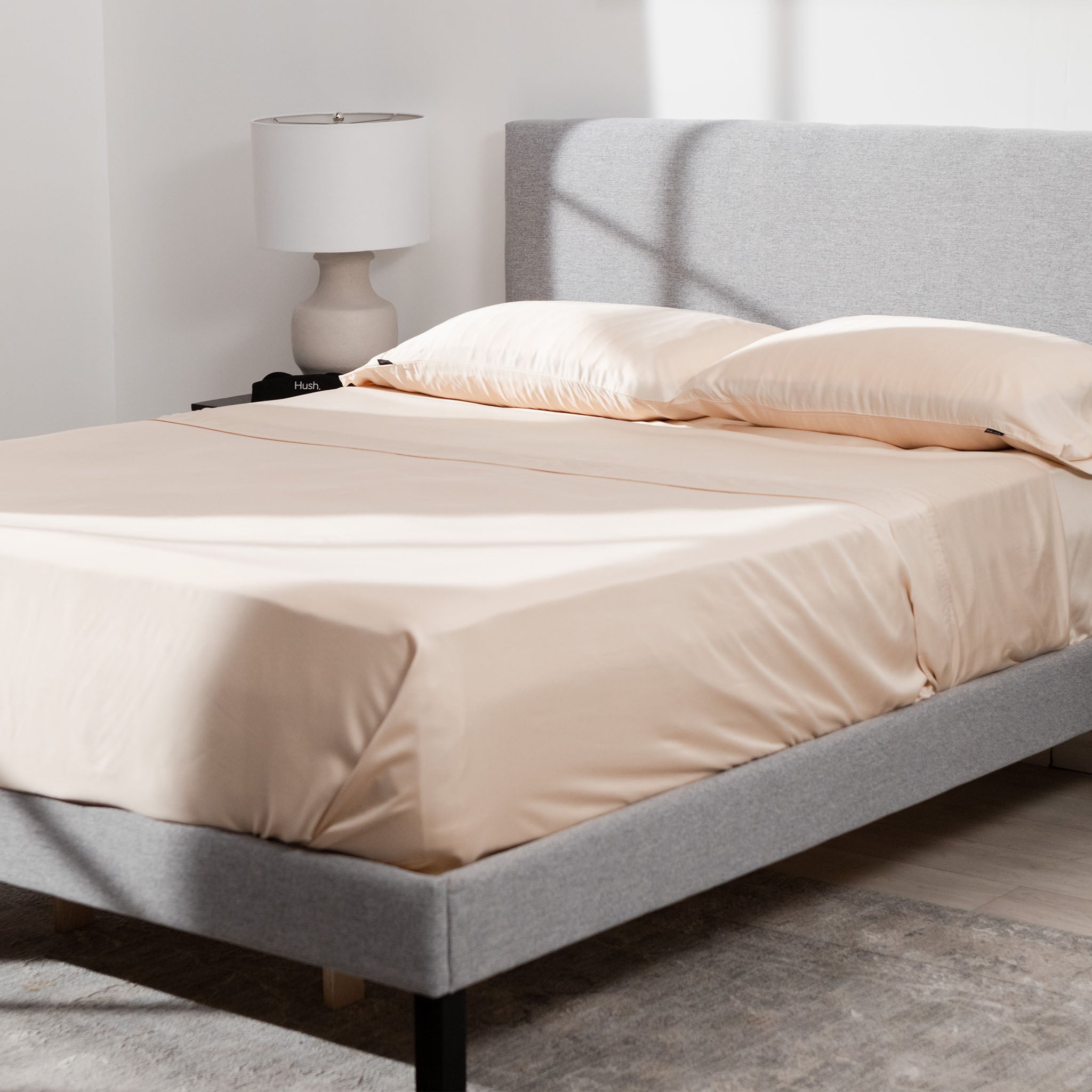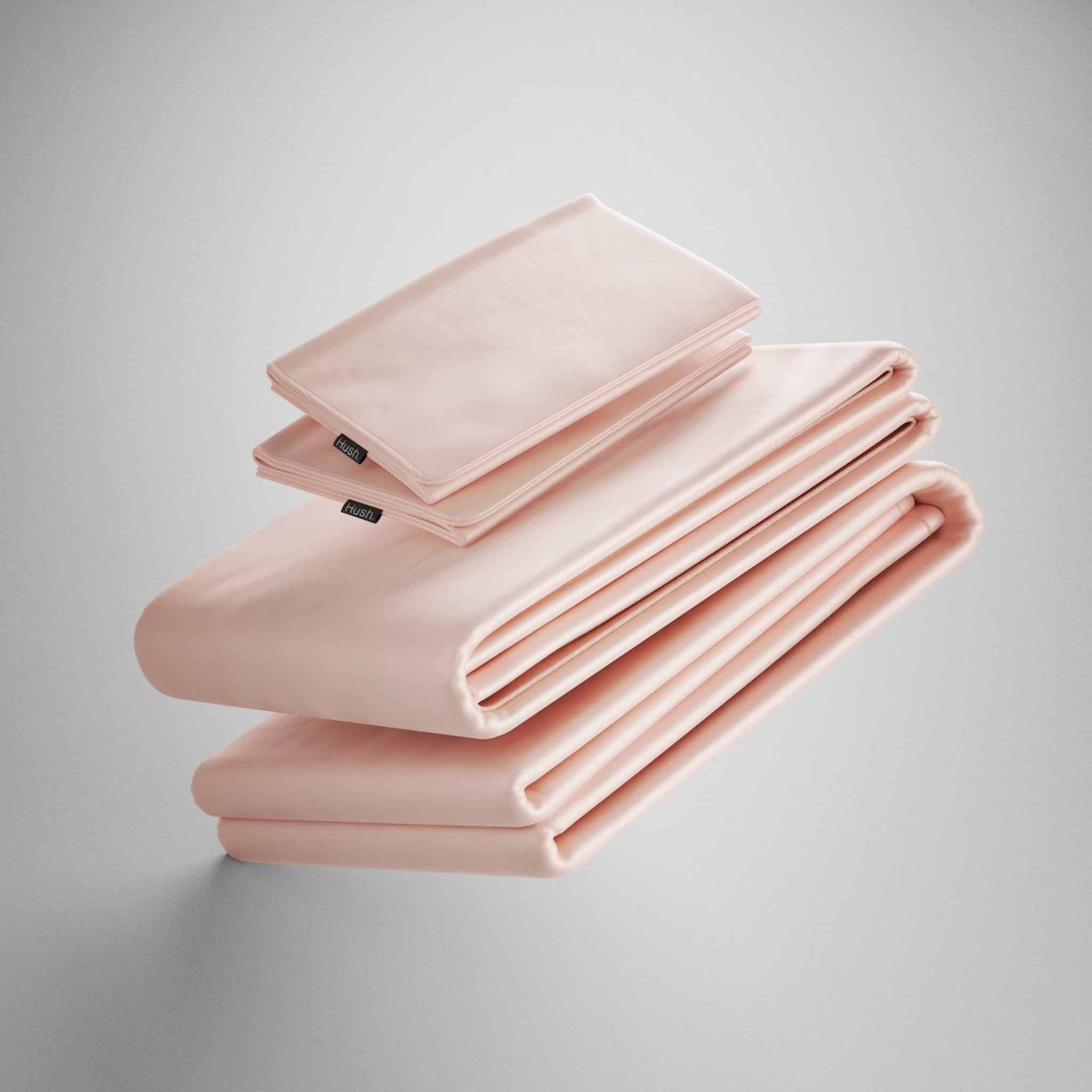 HUSH ICED 2.0 BAMBOO COOLING SHEETS AND PILLOWCASE SET
Our Iced 2.0 technology is sewn into the sheets to regulate your body-temperature throughout the night!


Literally cool to the touch due to the material having high 'thermal effusivity'




Keeps your bed dry by evaporating night sweats 3x faster than cotton




Soft as butter at 300 TC, but it's made with viscose bamboo that feels like 1500 TC
Key Features of the Iced 2.0 Cooling Sheets
300 Thread Count

But being made of soft, viscose bamboo, it feels like 1000 TC!

OEKO-TEX Certified

These sheets are made of a 100% hand-spun organic material

Never Comes Off!

Thanks to elastic bands that keep them in place!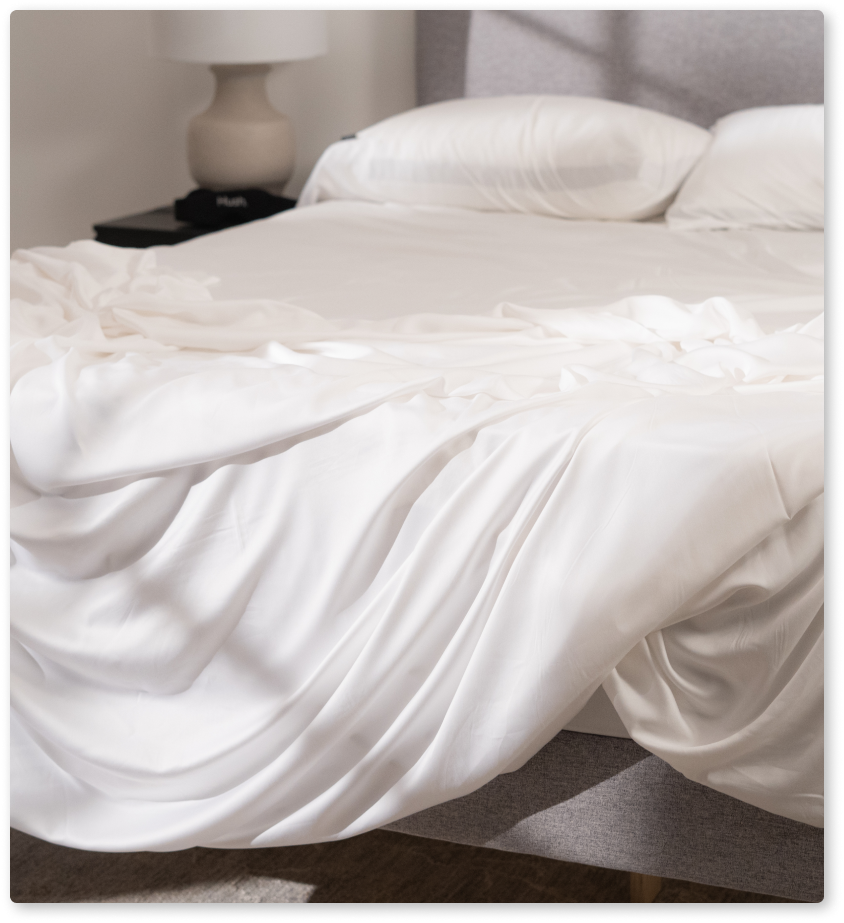 Using Science to Ease Night Sweats and Improve Sleep!
High Thermal Effusivity
Ever feel like you're burning up in bed? The special viscose blend of the Iced 2.0 Sheets literally feels cool to the touch, thanks to the material's a high thermal effusivity, a property of all materials that dictates how warm it feels to touch.

Absorbs More Sweat and Dries Faster
Due to its superior wicking qualities, the viscose in the Iced 2.0 Sheets are 40% more absorbent than the most absorbent cotton blend and dry 3x faster, so you're always sleeping in a dry bed.

Softer Than Egyptian Cotton
Unlike cotton, viscose doesn't contain barbs and spurs. The buttery soft texture also doesn't cause any irritation to your skin. A 300 thread-count viscose sheet easily feels as soft as 1000 thread-count cotton sheet!
SHOP SHEETS
Skeptical?
Hear it from Real Hotties
"As someone with a sensory disorder, I highly recommend these sheets. They feel soft but not too smooth and slippery. I find I don't have night sweats and sleep more soundly since using them." - Anita

I've been using Hush sheets for so long now I thought I'd use one of my other old sets that aren't Hush that I previously loved. When i got into bed, I could totally tell the difference in quality and was wishing I had my Hush sheets on" - Erin

"My sleep has improved so much since using these sheets. I was surprised at how much the cooling sheets helped with hot flashes and overall comfort. Highly recommended." - Michelle
REVIEWS
Did you hear about our giveback program?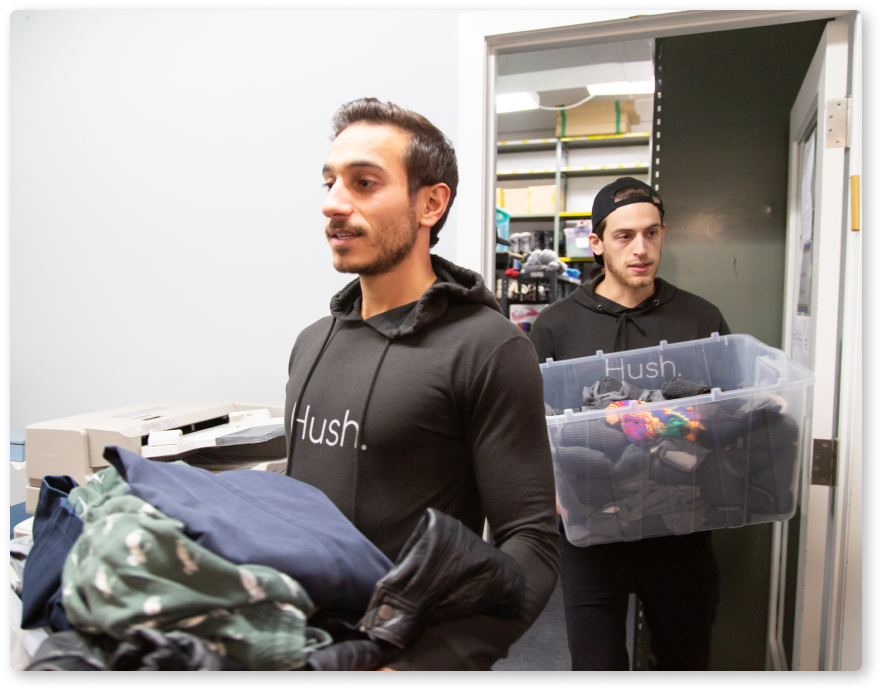 Our roots at Hush started with working for kids with special needs and discovering how the power of weight is used to calm their senses.

But it didn't stop there. We donate 1 for every 5 Kids weighted blankets sold to organizations that help children with special needs, terminal illnesses, or poverty. We Donate 1 in every 10 Adult weighted blankets sold to organizations such as homeless shelters and adults with disabilities.

Donations are sent out at the end of each month, and we may have opportunities to send even more from certain return blankets that are in reusable conditions.
Very

Frequently Asked Questions
Does the Iced 2.0 blanket prevent or treat hot flashes?
No. As much as we wish we could treat your hot flashes, it's beyond the powers of our blanket :( But we promise the Hush Iced 2.0 will ease your hot flashes by helping you cool down faster!
What happens when my hot flashes turn into a cooling fit? Won't I freeze to death with your 'Iced' 2.0 blanket and sheets?
Not at all! The Hush Iced 2.0 helps regulate your body's temperature by wicking moisture and heat. If there's no moisture or heat to wick, it functions just like a regular weighted blanket
What if it doesn't work for me? Do you have a money-back guarantee?
Yes ma'am! The Iced 2.0 Blanket comes with a 100 night money back guarantee, and the Iced 2.0 Sheets come with a 30 night money back guarantee. If either of the products don't work for you, return them to us or donate them to a registered charity and get your money-back.
How do I choose the right weight for the blanket?
Occupational Therapists recommend going with approximately 10% of your body-weight. If you sleep with a partner, use your combined body-weight to determine the ideal weight of your blanket
How will I know when my product has been shipped?
As soon as your order is out for delivery, we will e-mail and text you to let you know the tracking number. We recommend adding Route Insurance to your order at checkout to ensure you're fully covered in the event that your package is stolen!
Is there a payment plan available?
Yes. You can break down payment into 4 interest-free bi-weekly payments with Sezzle. Look for the option when you checkout!