Hush Iced 2.0 Blanket for Shift Workers
This sleep-inducing Weighted Blanket regulates your hormones to improve sleep and maximize rest.

Relaxes your body and mind with 'Deep Touch Pressure' (DTP) to help you wind down and prepare for sleep

DTP also induces natural release of melatonin to help you fall asleep faster and stay asleep longer

Boosts serotonin and reduces cortisol to relieve night-time anxiety and reset stress levels
Ease Insomnia in 3 Steps
Select the right size and weight! Tip: 10% of your body weight is ideal.

Replace your comforter/duvet with the Hush Iced 2.0 cooling weighted blanket

On laundry day, unzip the blanket's duvet cover and wash in low-temperature setting on laundry day!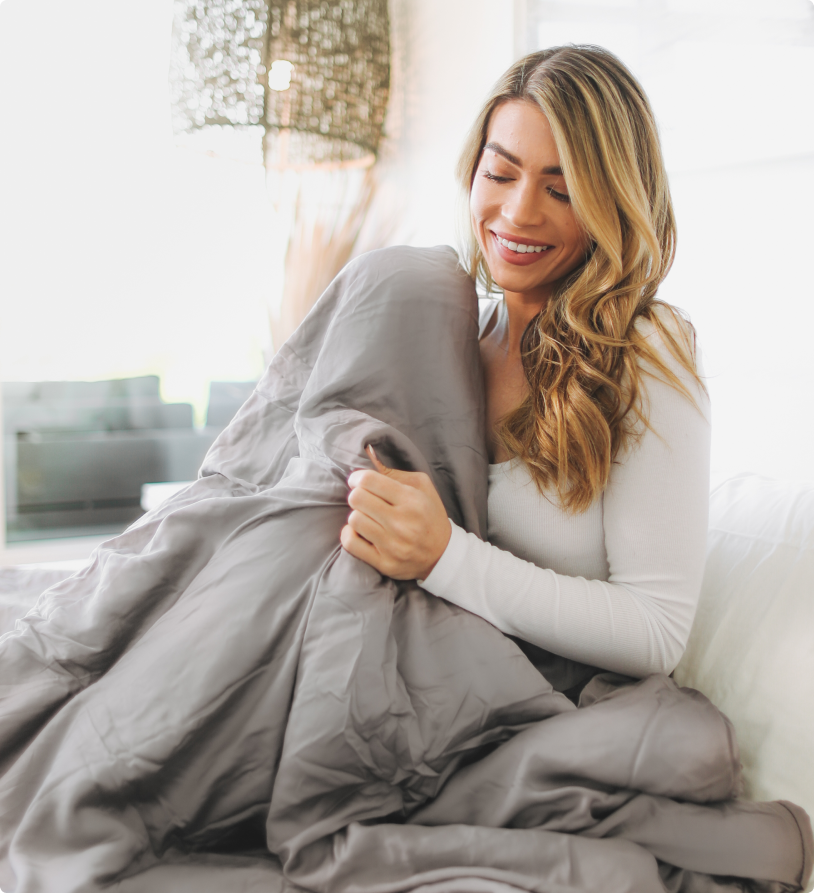 Why A Weighted Blanket?
Feels Like a Hug
Ever hugged a loved one to lift their mood? The gentle weight of this blanket literally feels like a hug and triggers a soothing effect that physio-therapists call 'Deep Touch Pressure' (DTP)

Keep Hormones In Check
Just like a real hug, DTPS de-stresses you by down-regulating stress hormones (cortisol) and lifts your mood by up-regulating your happiness hormones (serotonin)

Restore Melatonin Balance
DTPS also triggers a natural and gradual release of melatonin to help you fall asleep in minutes. Best part? Unlike sleep-aids, there are no risks of side-effects
SHOP WEIGHTED BLANKETS
Did you hear about our giveback program?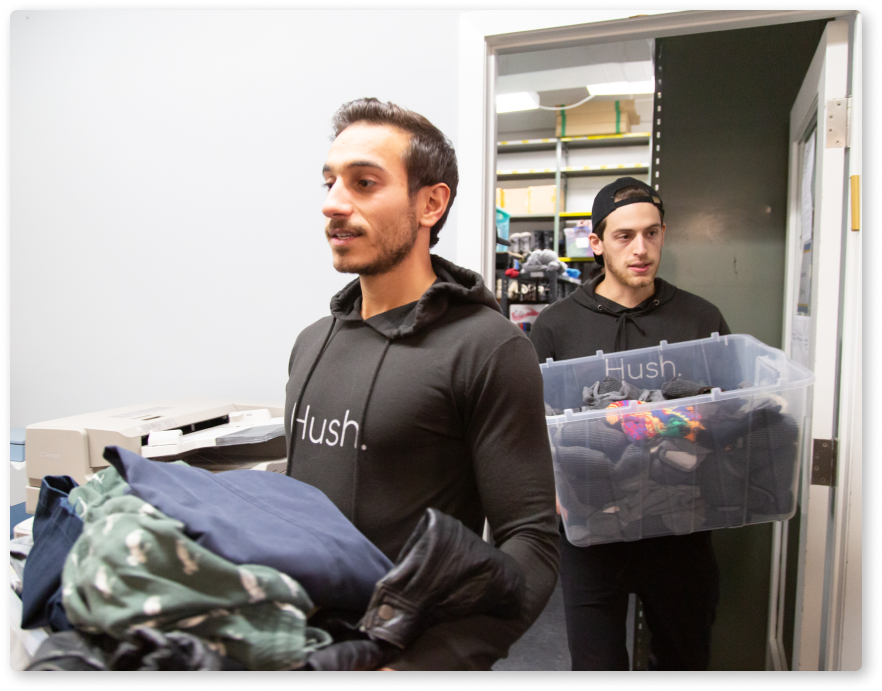 Our roots at Hush started with working for kids with special needs and discovering how the power of weight is used to calm their senses.

But it didn't stop there. We donate 1 for every 5 Kids weighted blankets sold to organizations that help children with special needs, terminal illnesses, or poverty. We Donate 1 in every 10 Adult weighted blankets sold to organizations such as homeless shelters and adults with disabilities.

Donations are sent out at the end of each month, and we may have opportunities to send even more from certain return blankets that are in reusable conditions.
Very

Frequently Asked Questions
Does the Iced 2.0 blanket prevent or treat hot flashes?
No. As much as we wish we could treat your hot flashes, it's beyond the powers of our blanket :( But we promise the Hush Iced 2.0 will ease your hot flashes by helping you cool down faster!
What happens when my hot flashes turn into a cooling fit? Won't I freeze to death with your 'Iced' 2.0 blanket and sheets?
Not at all! The Hush Iced 2.0 helps regulate your body's temperature by wicking moisture and heat. If there's no moisture or heat to wick, it functions just like a regular weighted blanket
What if it doesn't work for me? Do you have a money-back guarantee?
Yes ma'am! The Iced 2.0 Blanket comes with a 100 night money back guarantee, and the Iced 2.0 Sheets come with a 30 night money back guarantee. If either of the products don't work for you, return them to us or donate them to a registered charity and get your money-back.
How do I choose the right weight for the blanket?
Occupational Therapists recommend going with approximately 10% of your body-weight. If you sleep with a partner, use your combined body-weight to determine the ideal weight of your blanket
How will I know when my product has been shipped?
As soon as your order is out for delivery, we will e-mail and text you to let you know the tracking number. We recommend adding Route Insurance to your order at checkout to ensure you're fully covered in the event that your package is stolen!
Is there a payment plan available?
Yes. You can break down payment into 4 interest-free bi-weekly payments with Sezzle. Look for the option when you checkout!